Select Lion Magazine or District Newsletter to view/download the latest version of the publication
Some recent press releases from our Public Relations Officer.
Lions record autumn quiz
The Barrington Theatre Ferndown was packed on Thursday 10th October when 125 players turned up to compete in the Wimborne and Ferndown Lions annual autumn quiz.
Several thanks are in order.
Firstly, to the Barrington management who were generally very helpful and squeezed all the tables and chairs evenly over the available space.
Secondly to veteran quizmaster Ken Taylor. He says this was his swansong but he conducted proceedings as smoothly as ever.
Thirdly to all the Lions who provided all the food, the raffle, distributed the scripts etc and did the scoring – a great team effort.
Finally our thanks to the players ( below ) who combined to raise a net profit of over £750 which will go to selected Lions charities.
Lions £2000 for the Lewis-Manning Hospice.
At a small ceremony on the 24th July Wimborne and Ferndown Lions Club gave a donation of two thousand pounds to the hospice to help them continue the loving care which they give to patients with life limiting illnesses and support for their families.
The bulk of the money for this donation came from this year's Lions fundraising via Easter Egg draws held in many local pubs and clubs.
Pictured are Mark Elling from Lewis-Manning with Lions Anne Lippitt, Ken Taylor, Joan Budden and Lions' President Frank Fortey holding the cheque.
Lions donate £3125 for a warming cot for Poole Hospital.
A donation from Wimborne and Ferndown Lions Club has enabled the Neonatal Unit at Poole Hospital to acquire a special "warming cot" which can precisely control the temperature surrounding a new born baby. The unit is known as the Kanmed Warming System BabyBed and is used mainly with premature babies.
Pictured below are staff at the neonatal unit flanked by Lions President Anne Lippitt, Treasurer Frank Fortey and Secretary Derick Smith at a presentation at the hospital On May 3rd.
Lions provide a special bed for Wimborne Hospital
In 2018 Wimborne and Ferndown Lions decided to support Wimborne Community Hospital with £4200 for the provision of a type of patient hoist which the hospital had requested. However, later that year such a hoist became available from St. Leonards hospital to fulfil Wimborne's need.
As a result the money was used instead to buy a special bed designed to avoid injury to dementia patients falling on the floor. The bed was presented to senior sister Seetha Vinod on behalf of the hospital at a ceremony in Hanham ward on April 3rd.
Pictured with the bed are Lions Joan Budden and Ken Taylor with Lions' President Anne Lippittt, centre, cutting the ribbon.
Lions Quizzes

We traditionally hold a general knowledge Quiz for teams of up to six players in Spring


(Wimborne Allendale Centre) and Autumn (Ferndown Barrington Theatre)


and 2018 was no exception.

The format is for six rounds of questions plus a picture round interspersed with a little


Card Bingo and an interval for refreshments (a cold Platter and rolls on each table).

Quizmaster Lion Ken Taylor controlled proceedings, more or less.

Thanks to all those who supported the Lions and helped us to raise approximately £1,000


for local good causes.

The pictures are from the October Quiz at the Barrington (Lions in Red)
Keeping it in the (Lions) Family

In August 2018 we saw the enrolment of two new members which brought the total of our Club membership to 22.

The picture shows new members Daniel Whittle, and his partner, Lena Garrett being "Badged up" by Lion Ken Taylor.

This enrolment was a very special occasion as Daniel is the son of Lions Legend

Albert Whittle, who was a founder member of the Club in 1969 and served as a Lion for 48 years, until his death in October 2016.

Apart from being a Champion Speed Skater, in his Youth, Albert held all major offices of the Club including being President of the Club 3 times and being a District Governor.

Our other recent new Members were Jane Beck & Roger Male.
Lions 5k obstacle run

Around 100 runners, some young and some not so young, took part in the third annual Wimborne and Ferndown Lions' Muddy Fun Run which took place over a 5K obstacle course held at Homelands Farm, Three Legged Cross in lovely weather on the 26th of May.

The varied set of 25 obstacles generally survived the onslaught. Organiser Lion Peter Burnett said "we are learning how to improve the course all the time." Because of the dry weather the early part of the course was not so muddy this time, that is until they reached the slippery slide (top photo) and the tyre tunnel (bottom photo).

The event raised over £600 for the designated Lions' charities.
Centennial Project donation to Avon Heath Country Park
Our President Lion Teresa North and Club members presented a cheque for £3720 towards the new picnic benches and play equipment which we have paid for as our centennial project. They are situated at the Avon Heath Country Park.
Following our donation, the Children's Rope Bridges were installed :-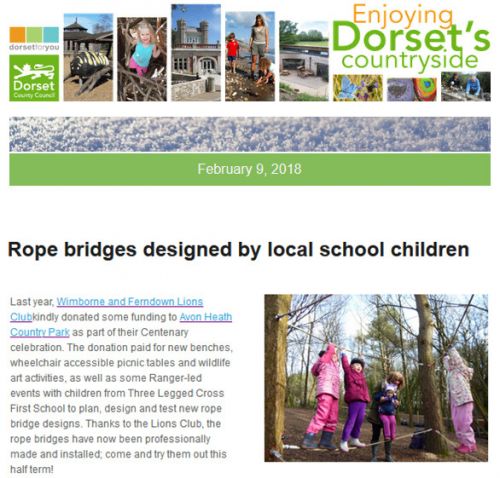 Muddy Fun Run - May 2017
A great time was had by some 150 entrants taking part in our Muddy Fun run.
It was great to see families taking part, as well as regular entrants.
The pic
ture shows one of
the obstacles on the course.
Annual Paultons Park visit - May 2017
Once, a year, the Lions Clubs in our District take disadvantaged/Disabled Children to Paultons Park, for the day. This year, some 1,700 guests attended the day.

Wimborne & Ferndown Lions took some 90 guests there, and we have had some lovely feedback.
The picture shows Lion Debbie Burnett and Lion Godwin Micallef taking some time out, looking at a baby dinosaur!!
Spectacles Recycling - SPEKTREK April 2017
Wimborne and Ferndown Lions, along with other Lions Clubs, have been collecting unwanted pairs of spectacles which are then refurbished, cleaned and graded and prepared for sending to countries where eye care is often unavailable and lens making facilities non-existent. Over the years Lions in the UK Southern Region have collected nearly three million pairs.
This year Wimborne and Ferndown Lions themselves have collected 5,900 pairs and the total assembled from the area was 22,482 pairs. Bournemouth, Southbourne and Boscombe, Christchurch ,Lymington and Brockenhurst, Poole and Ringwood & Fordingbridge Lions Clubs all contributed. The Club would like to thank the local opticians and doctors' surgeries who have contributed to the collecting process.
Pictured are some Lions members with some of the collection boxes assembled outside Ferndown Upper School
* It has been calculated that the cost of the scheme (paid by the Lions) is around 5p per pair.
Lions and the Marie Curie Great Daffodil Appeal. February 2017
Since 2013 Lions Clubs throughout the UK have teamed up with the Marie Curie Great Daffodil Appeal to raise funds to support people with terminal illness, and their families.
Members of Wimborne and Ferndown club have again recently helped in the fund raising, contributing £413 to the appeal.
Our picture shows Lions Derick Smith, Godwin Micallef and Teresa North, showing that fund raising can indeed make you smile.
84 Christmas Food Parcels from the Lions. December 2016.

The annual delivery of Christmas food parcels to local people has been made again by Wimborne and Ferndown Lions Club. Members fill bags with about 25 food items from bulk supplies purchased from Morrisons of Verwood. In a well established process, stacks comprising 84 pieces of each food item are assembled on tables . Club members then circulate, filling the bags with one from each stack. The bags are then delivered to people most in need who have been notified to the Lions from local Social Services, CABs and GPs etc. We would like to thank the Verwood Hub for the use of their room for the parcels assembly and also Jenny Cook of Morrisons for her help in arranging for the efficient supply of the food items.
Lions' wheelchair for Parley 1st School. June 2016.
Wimborne and Ferndown Lions have donated a wheelchair to Parley First School. Headteacher John Bagwell said it will help more than one child in the school in the future.
The photograph shows Lions Derick Smith (secretary) and Teresa North (president) with some of the smiling pupils.
Lions software for William. June 2016.
Wimborne and Ferndown Lions have provided a computer app called Prologquo2go which is an extensive symbol based communication aid for children who cannot speak.
Mum Tania said "this has potentially opened up a new world for a very special little boy". The photograph shows William in action.
Lions' £800 for Julia's House. June 2016
Wimborne and Ferndown Lions have donated £800 to Julia's House Childrens Hospice. Jacqui Greenhaf, The Community Fundraising Manager, said " this will be enough to pay for more than a dozen respite sessions for families whose children have a life limiting condition, allowing parents and siblings some precious time together". The picture shows Jacqui with Lions Teresa North (president,centre) and Joan Budden
Lions help for the Furies. June 2016.
Wimborne and Ferndown Lions Club have provided two new sports wheelchairs for the Ferndown Furies wheelchair basketball club. The Furies play at Ferndown Leisure Centre on Friday evenings.
Lions (in red) Derick Smith (on left) and Godwin Micallef are shown with some of the Furies ready for action with Furies' coach Mark dent on extreme left.
Lions' boost for the horses. May 2016.

Wimborne and Ferndown Lions Club have made a donation of £800 to the
Riding for the Disabled Centre at Green Cottage near Three Legged Cross. Jane Dowding, RDA secretary, said "we are so grateful to the Lions for their wonderful support. We can now buy a new specialist saddle for one of our ponies".
The money is part of the proceeds from the Lions' traditional Giant Easter Egg draw held in March and April. Picture shows Lion Ken Taylor with some of the RDA volunteers
Did you notice that?
Wimborne and Ferndown Lions have got some notice boards which are sited on the walls at Tesco in Ferndown and The Co-op in Wimborne. Apart from details of forthcoming events, the boards also show details of the 30 or so beneficiaries we have supported during the year. We would like to thank Tesco and The Co-op for their help and cooperation in allowing us to set up these displays.
This picture is the board at the exit to the Tesco car park.
180416_Wimborne_Hospital_Bed.JPG UNSUPPORTED FILE TYPE image/jpeg
Lions record autumn quiz